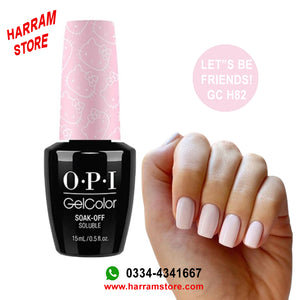 OPI Gel Polish Let's Be Friend GC H82
Brand: OPI
Product: OPI Gel Polish Let's Be Friend GC H82
Size: 15ML
OPI (Odontorium Products Inc.) is a popular brand that offers a wide range of high-quality nail care products, including Gel Polish. OPI Gel Polish is a long-lasting and durable option for a gel manicure or pedicure, providing a high-shine finish that can last for up to three weeks with proper application and care.
OPI Gel Polish is known for its wide range of colors, finishes, and collections. They offer classic shades, trendy hues, and seasonal collections to keep up with the latest nail trends. OPI Gel Polish is also chip-resistant and provides a smooth and flawless finish that looks like a professional manicure.
To apply OPI Gel Polish, it requires curing under a UV or LED light to harden and provide a long-lasting finish. To remove the polish, acetone is typically used, and it's important to follow the recommended removal process to avoid damaging the natural nail.
If you're interested in trying OPI Gel Polish, Harram Store is the best platform for your search. AT Harram Store we have wide range of colors in OPI Gel Polish.
---
We Also Recommend
---